"A painting to me is primarily a verb, not a noun, an event first and only secondarily an image."
This week in For the Painter #19...
1. Art Together on Tuesday at 8 AM Pacific/11 AM Eastern
(Event has already occurred.)
This Tuesday, Nov 9, I will be hosting a focused painting session on Zoom. Art Together is a fun way to paint from the comfort of your home while feeling connected to other painters.
In Tuesday's session, I'll explain how making a few thumbnail sketches can improve your composition. It's a simple step (that most painters skip) that can make a huge impact.
When you sign up, you'll receive a workbook to help you plan your next painting and prepare you for the Art Together session.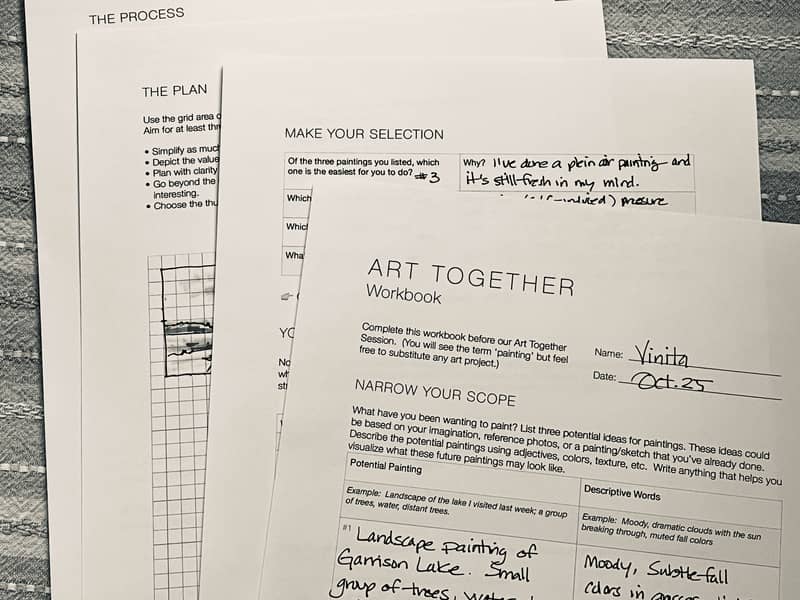 2. How to use a dry hake brush to soften washes
"The washes are applied, with as little agitation as possible, using a bristle or taklon brush, then gently adjusted with a dry hake."
Jon can also use a dry hake brush to remove blooms in a wash. What a neat trick!
There are several before and after photos that you can click through to see the effects of the brush.
3. How to Practice Watercolor in 15 minutes
"...the purpose of doing this kind of work is that it will always teach you something, and you will always be connected with the watercolor..."
In this 20 minute replay of a YouTube Livestream, artist Nitin Singh paints a quick watercolor study of a beautiful building from memory. Nitin creates a nice painting in a short amount of time while also sharing the importance of painting regularly.
Related Posts