This week in For the Painter #40...
"I have recorded in my sketch at least something of the joy of that moment with nature…. This is indeed a beautiful world. What need is there for shouting 'I have painted a picture, come and see it'. What necessity for public appraisal or critic's approval? My picture may be destined never to be seen by anybody but myself. It is done and I have added something to my life which nobody can take from me."
1. Watercolour demo by Jem Bowden
Jem Bowden lives in the historic fishing village of Crail, Scotland. Jem is primarily a plein air painter with a loose, impressionistic painting style.
This demo, from 2018, is filmed indoors but still represents his expressive style of painting. Enjoy watching Jem paint!
2. A year in the window
In March 2021, I did some test swatches with grayscale Tombow Dual Brush Pens on an index card. I covered a section with two layers of blue tape and put the card on a windowsill that gets a few hours of afternoon sunlight.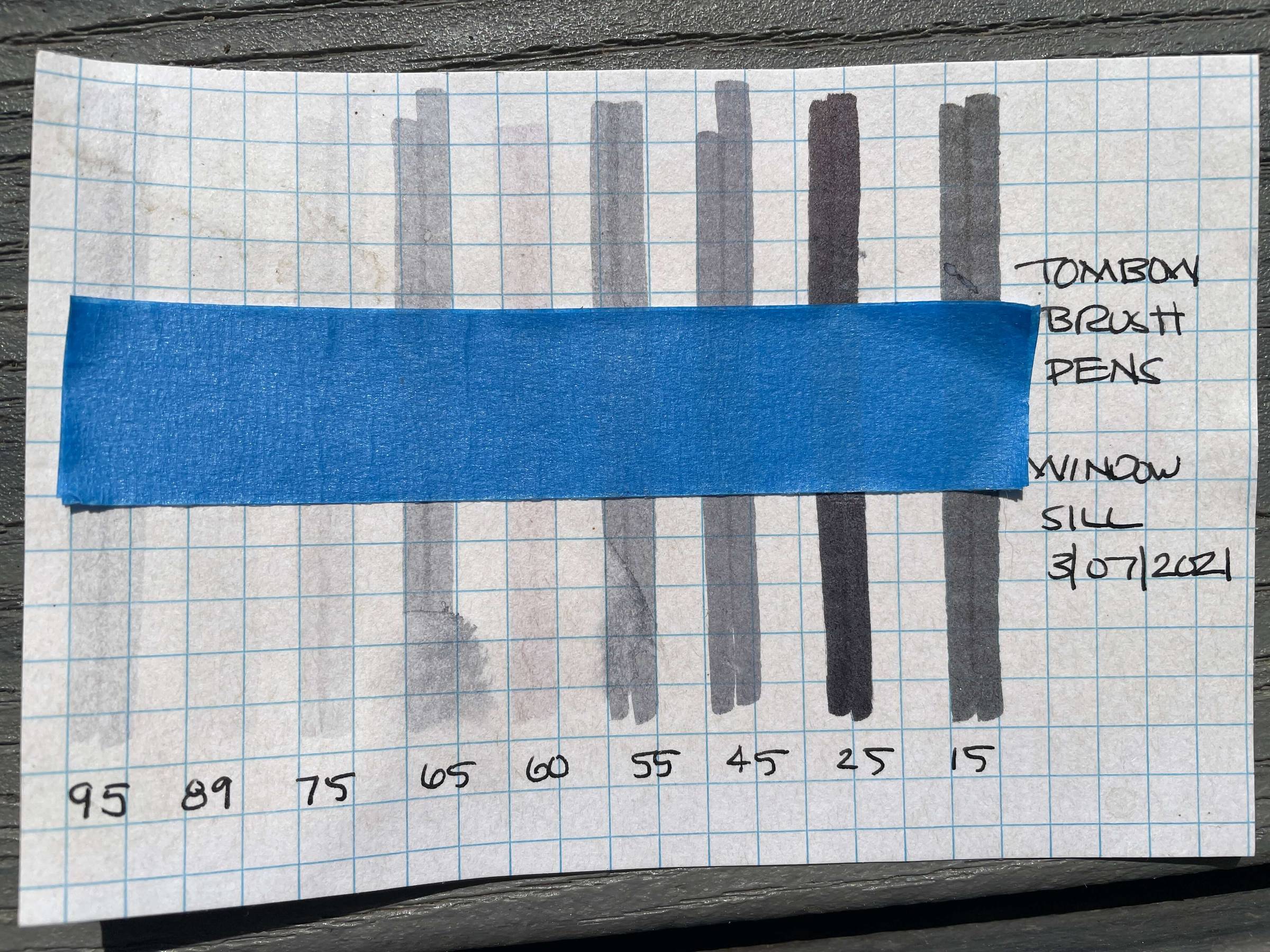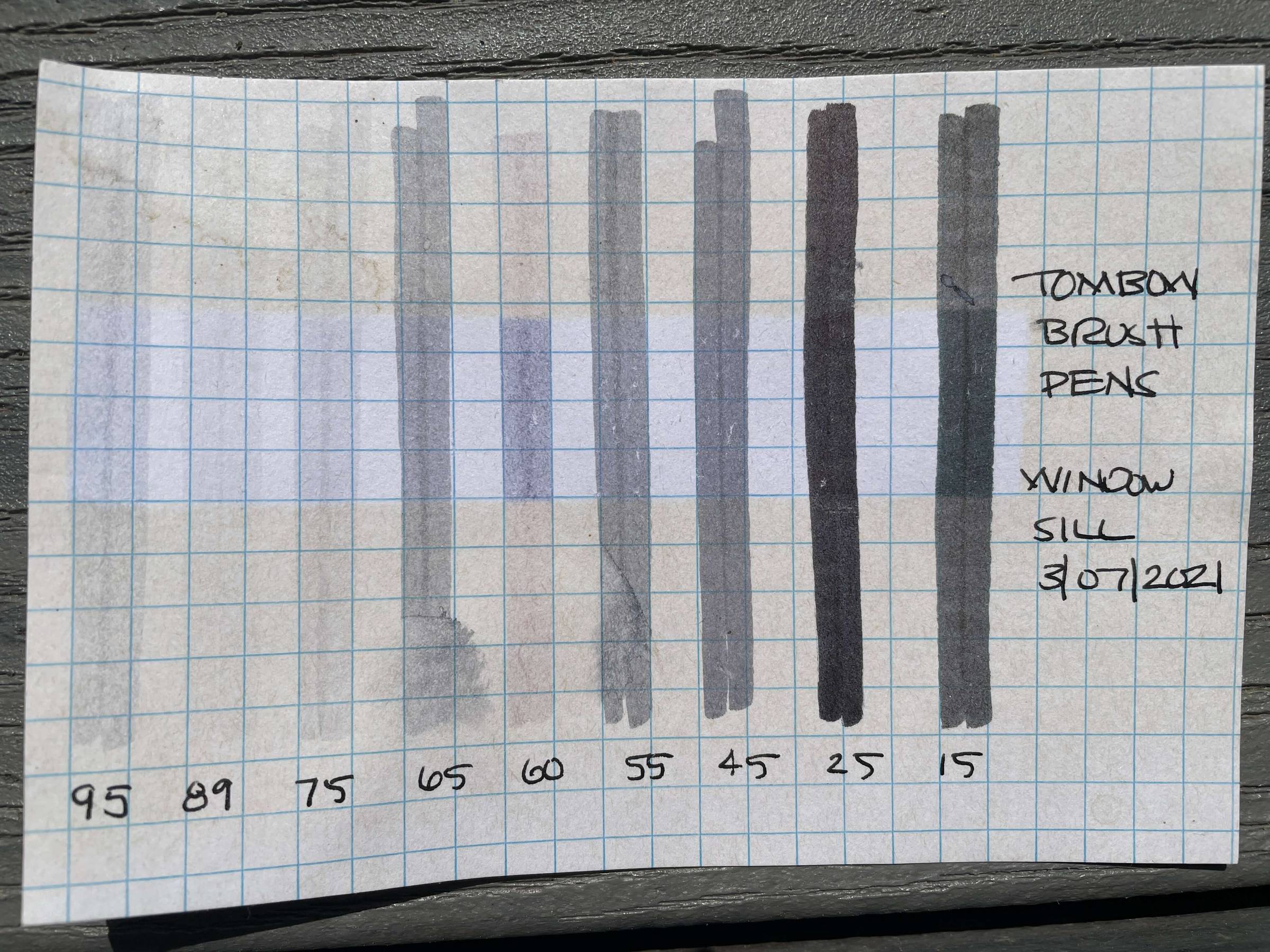 Here are a few observations of the card after a year on the windowsill.
The cheap paper of the index card yellowed, proving that paper acidity matters. Acid free papers will stay true to their original color better than acidic papers.

Every shade of Tombow pen lightened, some more than others (look at shade 60).
This was not a surprise to me as Tombow states this clearly on their website...
Are the Dual Brush Pens lightfast?
Dual Brush Pens are not lightfast. Open-faced artwork can fade over time if exposed to direct sunlight. The effect is less for illustrations done inside a book, or paintings that are hung away from windows and protected by UV glass.
The reality is that most markers are not lightfast. Convenient, yes. Archival, no. I use these Tombow markers for value studies and sketches in a sketchbook. Fading is not a big concern because these works will not be exposed to regular sunlight.
However, I was surprised by the amount of fading in a few of the shades. This has made me think twice about using these pens in any work that might be framed or displayed.
3. The Next Experiment - Watercolor Lightfast Test
For the next experiment, I'm going to test out the lightfastness of my watercolor paints.
Want to try this experiment with me? Paint swatches of watercolor paint on acid-free watercolor paper. Let dry. Label then cut the swatches in half. Keep one half in a closed drawer and place the other half in a window that gets afternoon sun. We'll compare the swatches in about 4 months.
Final thoughts
Don't you just love the quote at the top of this email? Jack Merriot (1901 – 1968) was a cherished, enthusiastic British watercolor painter and instructor.
The next time I finish a plein air painting, I think I will borrow his words and declare loudly, "It is done and I have added something to my life which nobody can take from me!"
For the Painter is a weekly newsletter to inspire painters. Fill out the form below to receive the next issue on Sunday.
Related Posts