This week in For the Painter #41...
"Never forget to tell a story with your painting. It's so easy to paint the subject and forget what it is about the subject that attracted you in the first place.
Before you begin any painting, ask yourself a simple question, "What is it I am painting?"
The answer should be MOOD and ATMOSPHERE. The location should be totally secondary and only provide the means to tell the story."
1. Plein Air Watercolor Demo
I recently painted at the boatyard close to where I live. Instead of painting the boats, I painted the view toward Crown Point Bridge.
This was a fun painting session. It was overcast when I set up, and as soon as I started painting, the sun came out. It felt nice and warm on my back so I didn't mind the bright sun on the white paper.
2. On my easel
Yesterday afternoon, I sensed a break between rain showers, so Ellie and I headed to our favorite spot, Simpsons Beach, which is below Shore Acres Gardens.
I was able to get this painting done just as the rain started up again. Perfect timing!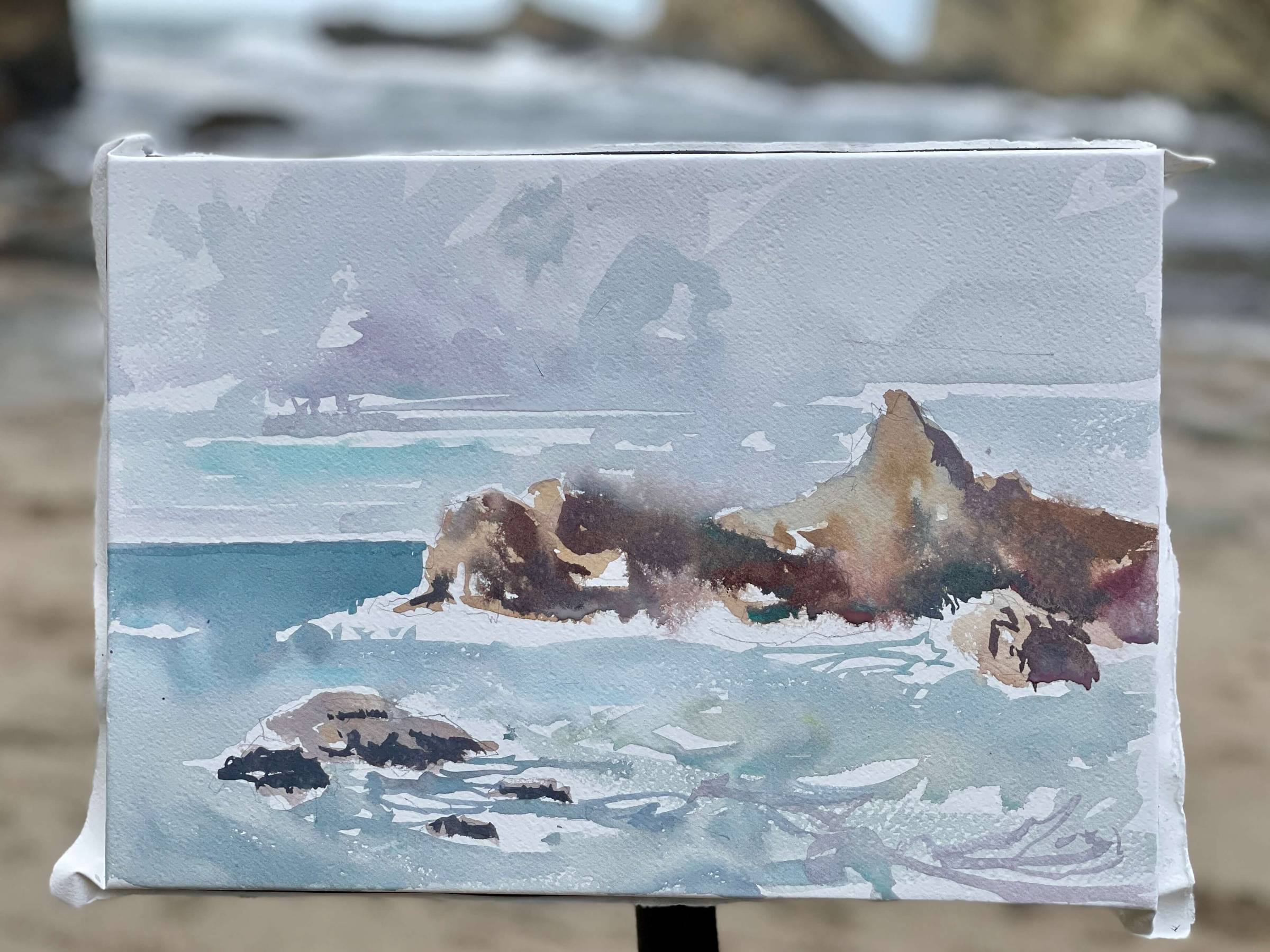 I stretched this paper with the Perfect Paper Stretcher Board that I mentioned a few weeks ago. I'm still gathering the pros and cons of this board and I'll share that soon.
3. Your Answer
The opening quote comes from Joseph Z's book and it's a passage that I highlighted many years ago.
For me, it's STILL easy to become immersed with painting the subject in a literal way. Plus, there are all the enticing details! Often this causes me to lose sight of the mood and atmosphere and the fleeting story of the moment. What about you?
Joseph's seemingly simple question "What is it I am painting?" is good.
Decide on the story you wish to tell. Choose a process that helps tell that story. This sounds pretty easy, but I believe it is a lifelong quest for any painter. I know it is for me.
For the Painter is a weekly newsletter to inspire painters. Fill out the form below to receive the next issue on Sunday.
Related Posts